Our family history starts in Switzerland, in a city on the banks of the river Aare. This river rises in the great Aare glaciers, west of the Grimsel Pass. Beyond the Handegg waterfall, it traverses the Haslital and expands into the lake of Brienz, crosses the swampy plain of the Bodeli, near Interlaken, and so into Lake Thun. The Aare now flows north-west, encircling the lofty bluff on which the town of Berne is built and so to Soleure, which is where our story begins.

Soleure (or Solothurn, as it is now called) lies at the foot of the last ridge of the Jura mountains. In Roman times, it was called "Salodorum" and the remains of the Roman "castrum" (camp) still exist. Its position led to its being strongly fortified more than once. In 1481, Soleure was admitted into the Swiss Confederation.


In 1529, the majority of the "communes" went over to the reformed faith and men were sent to fight on the side of the reformer, Ulrich Zwingli (seen right). On 10th October, 1531, the battle of Kappel was fought - a battle disastrous to the Protestant cause. Zwingli, who, as chaplain, was carrying the banner, was struck to the ground and was later killed in cold blood. His corpse was quartered by the public hangman and burnt with dung by the soldiers. A great boulder, roughly squared, standing a little way off the road, marks the place where Zwingli fell. It is inscribed:-

They may kill the body, but not the soul. So spoke, on this spot, Ulrich Zwingli who, for truth and the Christian Church, died a hero's death. October 11, 1531.

It was in these stormy times that Soleure was chosen, as a place of residence, by Ambassadors of the King of France to the Swiss Diet. In 1530, my ancestor, Jean Chevalley, became Ambassador of the Republic of Soleure. This is the first entry recorded nn our family tree. Nothing more is known about Jean Chevalley, except that his son, Urse, became Aveyer (lawyer) of Soleure in 1539.

Urse died in 1562, leaving three sons. His second son, Etienne, became Banneret of Soleure in 1579 and Etienne's son, Urse, was also to hold this position.

A Banneret was a Nobleman, with the right to lead his own vassals, under his own banner. In England, the title "Knight Banneret", with the right to display the private banner, came to be granted for distinguished service in the field, but only when either the king was present or, at least, his royal standard was displayed. The creation of a Banneret was almost the self-same of the French ceremony, by the solemn delivery of a banner, charged with the arms of him that was to be created, and the cutting of the end of the pennon or streamer, to make it a square, or into the shape of a banner. (The last instance of the creation of a Knight Banneret in England was that of John Smith, created Banneret at the battle of Edgehill by Charles I, for rescuing the royal standard from the enemy.)

Etienne's third son, Antoine, became a Captain in the Regiment Arreger in 1589, following in the military footsteps of his uncle Jacques and his eldest brother, Guillaume.

Antoine's two sons continued the family's military tradition - the second, also named Antoine, becoming a Captain in the French Guards in 1646.

Nothing is known of the next two generations, except that Antoine's son, Jean Pierre, died in 1689 and Jean Pierre's son, Jean Gaspard, died in 1739. Two years before the latter's death; his eldest son, Jean Pierre, married his niece, Louise Legeret. They had a son, Jacques Etienne, born on May 18th, 1738, who married Anne Chappuis de Rivaz. They had four children, the eldest being Jean Jacques, who was born on March 14th, 1768.

Jacques Etienne Chevalley was a vigneron and he and his wife, Anne, had obtained permission, on January 13th, 1763, to live in Vevey, on Lake Leman (Lake Geneva). In 1782, he bought a house in the Ruelle (lane or alley) du Moulin du Sauveur (this is now Rue duConseil), for the price of 3,000 livres.

On February 23rd, 1789, with Anne Chappuis (his wife), his two sons (aged about 20 and 16) and their two daughters, he received "la bourgeoisie de Vevey" and 600 francs.. The document is in my possession.

Jean-Jacques Chevalley, his son, lived in this house with his wife, Marguerite Ruchet, and with his family and, in 1822, he opened a wine shop (or tavern) on the premises. Eventually, he started to serve food and, at last, in 1829 was able to establish there an inn, under the sign "William Tell". This house still remains in the Commune, probably several times restored, and is now No.6 Rue du Conseil. Jean-Jacques Chevalley lived in this house until his death, on February 1st, 1830.

Jean-Jacques had seven children, all born in Vevey. The third was Jacques Etienne, born on August 16th, 1801. He was the only one of the three sons to have married. He was educated in the Protestant religion and studied Philosophy, in the venerable Academy of Lausanne, in order to take vows in the Protestant ministry in the Calvinist sect.

In 1822, however, he was converted to the Catholic faith and a letter, dated March 30th, 1827, written by the Cure of Geneva, M. Vuavin, states:-

After diverse proofs and some painful contradictions, he abjured the errors of Calvin and became a Catholic, with the sincerity and zeal of a Christian of the first century. Since that time, he has not ceased to give a part of his time to the propagation of good works and to stand up for the Catholic faith and to dissipate the prejudices of the Protestants.

He studied medicine at the Faculty of Paris and, whilst there, professed his new faith. He was also responsible for a much-praised translation of a new edition of the letters of Cobbet, on the history of the Reformation of the Anglican Church. In 1825, he nearly lost his life, from the action of one of the students, who wished to make him renege on his total absorption with Papism and Jesuitism.

In spite of all this, he had a distinguished career at the medical school, under the direction of M. le docteur Recamier, at whose home he lived. He was helped monetarily by a Colonel d'Horrer, who held him in such high esteem and affection, that he proposed that he should give his daughter to him in marriage!

This did not, in fact, take place for, in 1832, Jacques Etienne married a French lady, Louise Sophie Sauve, and their first son, Victor Chevalley, was born in the following year. They were to have two more sons, Leon, born in 1835, who died when he was only eight years old, and Eugene, born in 1843.

Jacques Etienne was appointed to be doctor to the King of Naples and his certificate of origin (passport) was issued by the Municipal Council of the Commune of Rivaz, near Vevey, in 1827. He lived at Casamicciola,, on the island of Ischia, in the Bay of Naples. He became famous for his work during a cholera epidemic in Naples, when people were often dying of fright, and apparently, on one celebrated occasion, he got into the bed of a dying man, to show the people that cholera was not contagious.

He also discovered waters, at Casamicciola, which were good for rheumatism and are used to this day.

In 1833, Jacques Etienne obtained special permission, from King Ferdinand, to take the name "de Rivaz", which had come into the family from his grandmother, Anne Chappuis de Rivaz.

His fame grew. A street was named after him - Via Dottore de Rivaz. In January 1848, he received a gold medal from the King of the Belgians and, in December 1848, he received a Diploma of Knight of Isabel the Catholic of Spain. In 1850, he was awarded a Diploma of Knight of St. Gregory the Great of Rome, by Pope Pius IX - and also became a member of the Legion of Honour of France that same year.

In 1832, the year that Jacques Etienne and Louise Sophie had been married, so too were the King of Naples and Cristina, daughter of Victor Emmanuel I, King of Sardinia. Sadly, Cristina died only lour years later and the King took a second wife, Marie Theresa, daughter of the Archduke Charles of Austria. After this Austrian alliance, the King's rule became more and more despotic.

In 1837, there was a rising in Sicily in consequence of the outbreak of cholera and, in 1843, the Young Italy Society organised a series of isolated outbreaks of rebellion.

Attilio and Emilio Bandiera, two Italian officers in the Austrian Navy, were won over to the ideas of Italian freedom and unity - and corresponded with Guiseppe Mazzini and other members of "Giovane Italia" (Young Italy). They began to make propaganda among the officers and men of the Austrian Navy, nearly all Italians, and actually planned to seize a warship and bombard Messina - but, having been betrayed, they fled to Corfu early in 1844.

Rumours reached them there of agitation in the Neapolitan kingdom, where the people were represented as ready to rise "en masse", at the first appearance of a leader. The Bandieras, consequently, determined to make a raid on the Calabrian coast. They got together a band of nineteen men, ready to sacrifice their lives for an ideal, and set sail on their desperate adventure on June 12th, 1844.

Four days later, they landed near Cotrone, intending to go to Cosenza, liberate the political prisoners and issue their proclamations. But they did not find the insurgent band which, they had been told, awaited them and were betrayed by one of their party, the Corsican Boccheciammpe, and by some peasants, who believed them to be Turkish pirates.

On July 23rd, the two Bandieras (and seven of their companions) were executed. They cried "Viva 1'Italia" as they fell. The moral effect of their execution was universally condemned and their martyrdom became an inspiration for future Italians.

In 1848, there were more uprisings in Sicily and throughout Italy, including Naples. However, these uprisings were defeated, Sicily was subjugated in 1849 and King Ferdinand earned the nickname "King Bomba", as a result of the bombarding of the chief Sicilian cities. Repression continued and it is estimated that, by 1851, there were 40,000 political prisoners in the Kingdom of Naples.

William Ewart Gladstone, destined to become four times Prime Minister of England, after wintering in Italy that year wrote about the scandalous reign of terror and the abominable treatment of the political prisoners. As a result, both England and France made diplomatic representations to the King, but without success.

It is against this terrible background that young Victor Chevalley de Rivaz, aged nineteen, spoke out against the tyranny of the King, at a banquet in Naples.

Fortunately for him, his father was able to intercede on his behalf and, instead of imprisonment, Victor was given fourteen days in which to leave the country.

Victor left his home on October 12th, 1852, never to return.

Jacques Etienne was never to see his son again and died on December 7th, 1863, eleven years later. Victor Chevalley de Rivaz's passport is dated September 30th, 1852, and is signed by the French Consul, one Hippolyte Flury. It describes Victor as "having auburn hair, high forehead, brown eyes, nose 'ordinaire', beard blonde, chin protruding, face long, colour 'ordinaire'." The document states that Victor was a native of Naples, born of French parents, without profession, living in Naples and going to Paris via Marseille. The document was delivered at the request of his father (Consular Agent of France in Ischia).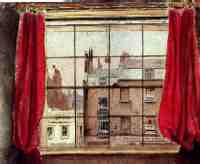 From Paris, Victor travelled to England and took lodgings in London, probably in Bayswater. We know little of how this young man fared in a strange land. He lost a lot of money and his landlady must have been sorry for him, as she let him live at her house for some time without paying his rent. He made some money selling pictures to shops and, also, as a translator of French and Italian, but he must have been financed by his parents and, also, by grandparents, as there were entries in his account book of £54.19.6d and E25, both from R.P. Sauve.

However, possibly through his ability as a linguist, he soon got a job. An entry in his account book, in 1853, was: "Income £20. Salary Clerk at E.Lloyd & Co". In 1854, his income had reached £40, now with E.Lloyd & Hambro and, in 1855, he was working for C.J.Hambro & Son, for a wage of £100.9.7d per annum.

In 1856 and 1857, entries show he was working for Desgrands Pere et Fils for £150 and E170 respectively. On June 15th, 1857, "Victor Chevalley de Rivaz, now residing at 14, Everett Street, Brunswick Square, in the County of Middlesex, carrying on business as an Exchange Broker in the City of London and intending to continue to reside permanently in the United kingdom", obtained a certificate of Naturalization. He was now aged twenty-four.

In September 1857, on the 29th to be exact, he was admitted to be a Broker within the City of London. He had had "to enter into two Bonds or Obligations, the one in the penalty of One Thousand Pounds for his honest and good behaviour in the office or employment of a Broker, and the other with security in the penalty of Fifty Pounds, conditioned for the yearly payment of Five Pounds upon every twentyninth day of September and, having provided further security in two persons approved by this Court, in the penalty of Two Hundred and Fifty Pounds each, for his honest and good behaviour in the said office, pursuant an order made by this Court of Mayor and Aldermen, held in the Inner Chamber of the Guildhall of the City of London, on Tuesday the 29th day of September, 1857, and in the Twenty-first year of the reign of Victoria, of the United Kingdom of Great Britain and Ireland, Queen & etc.''

We are told that, as a Bill Broker, he only went to business three days a week, but worked a full week later, when he became a stockbroker, joining the firm of Laurie Milbank & Co. in Threadneedle Street. Thus, we see a picture of a young man steadily prospering and making his way in the financial world of the City.

Now, let us turn to the romantic side of his life. Before he left Naples, he was in love with a Spanish lady, a well-known beauty, who told him that she would think about him when he earned £500 a year. He must have kept in touch with her as we are told that, when he had achieved this, she still would not have anything to do with him. Years later, an engraving of this lady hung in the dining room of his home and he used to point it out to his children and say, in fun: "That lady might have been your mother!"

However, there was more than one pebble on the beach and, one day, while staying at an hotel at Shepperton, by the river Thames, with a friend (a Per. Henfrey), he saw a young lady and remarked to his friend: "That is the first woman I have seen in this country who can walk properly." This lady, whose name was Adeline Gilbert-Heard, had recently suffered a terrible tragedy. She had been engaged to be married to a gentleman who was a Volunteer, who had been involved in a cab accident - his bayonet had gone through his side and had killed him.

On this day by the Thames, when Victor first espied Adeline, she was with her brother (who was either a barrister or solicitor) and who was known to Mr. Henfrey, a barrister himself. An introduction was effected and they became friends and, in due course, fell in love with each other.

However, it was very difficult for Victor to propose, as they were never allowed to be alone together and, in any event, Adeline's parents were not in favour of their daughter marrying a foreigner. But, one Sunday, it was raining when they came out of church and Mrs. Heard had no umbrella. Victor seized his opportunity, gave Adeline's umbrella to his future mother-in-law and walked off with Adeline under his umbrella - and proposed!

They were married on January 8th, 1863, at a church in the neighbourhood of Russell Square. They spent their honeymoon in Paris. The hotel did not possess a bath, let alone a bathroom, so Victor bought a bath and gave it to the proprietors. Later, Victor and Adeline went on to Algiers. Returning to England, they set up home in Shrewsbury Road, Bayswater, later moving to 10, Talbot Road nearby, where they brought up their large family of five boys and two girls. Sadly though, in 1875, their eldest son, Victor Amadeus (whose name does not appear on [some printed versions of] the family tree), died after being taken ill at Clifton College. Bullying at public schools, in those days, was rife and the poor boy contracted rheumatic fever, owing to some boys throwing cold water over his bed. He would never say which boys were involved.

After this tragedy, it is not surprising that their second son, Gilbert (Bertie), was sent to Haileybury College, near Hertford. He went there in January 1881, followed by his brother, Reginald Noel, two years later and the youngest son, Francis John (Frank), in May 1885. All were in Batten House. Victor's last child was born in 1876, a girl, Florence Ada (Florrie).

Victor Chevalley's business career prospered and, in due course, he became senior partner with Laurie Milbank. However, Victor did not enjoy the best of health. He had decided that he would like to return to Italy, to see the relations that he had not seen for so many years. Accordingly, he and Adeline set off, in the winter of 1880, when he was forty-seven years old. His parents were dead and his old family home had been destroyed in an earthquake. He and Adeline had only travelled as far as Paris, when Victor was taken ill with bronchitis. When he recovered, the doctor would not let him proceed to Naples, as it could be very cold there in the winter, so Victor never saw his relations at Casamicciola again. Instead, they went to St. Jean de Luz, a coastal town of south-western France, in the Department of Basses-Pyrenees, at the mouth of the Nivelle. Travelling to Bayonne, they then took a train, on a branch line of the Southern Railway, to St. Jean de Luz.

This old town, with its maritime traditions and thirteenth-century church, that has galleries in the nave which, by the Basque custom, are reserved for men, was to become the place where, each winter, Victor would go for his health.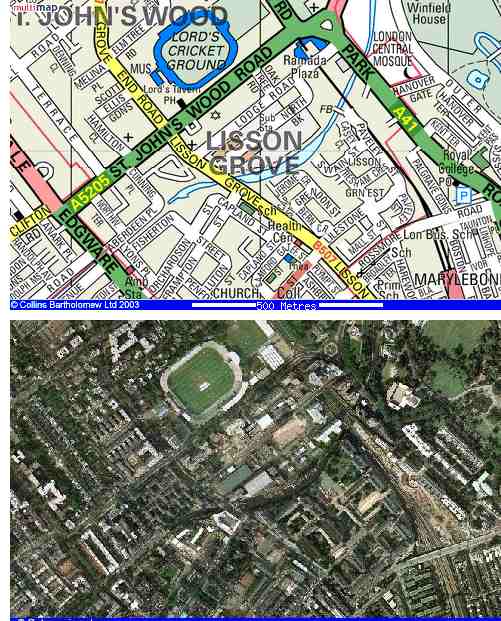 1885 was a year of considerable change. Victor was now aged fifty-two. Bertie and Charles Henry (Harry) were working at the Stock Exchange, whilst Reginald, being of an adventurous disposition, decided to seek his fortune in the United States of America. The family moved to Northbrook House, No.4, Grove Road (now called Lissom Grove). The house stood in grounds of about an acre, large for a London house, and had a small two-roomed cottage for a gardener - and large stables. Victor spent a great deal of money on the house and garden - and laid out a tennis court.

This was a fashionable area, when he first moved there, and his neighbours included doctors, surgeons, a J.P. and three clergymen (who officiated at the Catholic church in the road).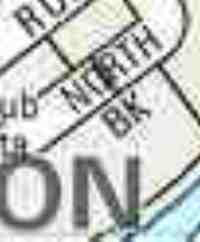 However, plans were afoot for the building of a railway terminus and the area began to deteriorate. In 1891, No.6 was now occupied by an artist. No.8 had been turned into apartments and Victor "let" the stable of Northbrook House to Mr. Stephen Cox, a horse dealer. In 1893, the artist moved from No.6 and two dressmakers, Buckley and Fenlon, were the occupiers. Northbrook House was still there in 1894 but, together with Nos.l, 2 and 3, had been demolished by 1896, to make way for Marylebone Station.

No.4, Northbrook House, was situated half-way between the canal and Church Street, opposite Princess Street (where the railway now goes under the road). [The image to the right probably shows a street where it was, near the N in the map above.]

There were always many callers on Sunday afternoons, some of whom were asked to stay for dinner. Victor, besides his work on the Stock Exchange, was a man of various talents. He made richly decorated wooden furniture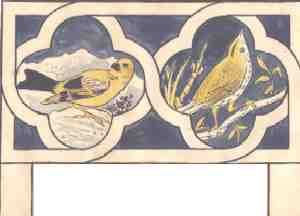 and he had taken up the study of cookery, as he found the English cooking was so bad. For years, he wrote the "Cookery" and the "Housewife" columns in "The Queen" newspaper. He also published two books, "Round the Table" and "Practical Dinners", which were very successful. Later, having given up writing for "The Queen", he was asked to write the cookery articles for the "St. James' Budget", a new weekly paper, and he did this for some time.

Victor also had many artist friends, amongst them Stacey Marks R.A., who was well-known for his paintings of birds. Another friend was John Bagnold Burgess R.A. (1830-1897) who, besides being a portrait painter, painted several pictures of scenes in Spain.

Many people, from the Continent, came over to England with introductions to Victor. One family, Cerasoti by name, came with six children. The father was an artist, but could not sell his paintings. However, two of the girls were brilliant pianists and "kept" the family! They played duets on two pianos and were only about eight and ten years old. They would come for the day to Northbrook House and the de Rivaz children would have to speak French.

Mme. Marie Rose, an opera singer, came with her son, who, himself, wrote an opera - "Jeanne d'Arc". The opera was performed in London but, apparently, was not a success and the composer died young.

Then there was M. de Soria, a wine merchant from Bordeaux, who had a lovely tenor voice. He used to come to London for the season and sing at the homes of many celebrate people, including the Princess of Wales, later to be Queen Alexandra. He needed no accompaniment and would sing to the family and guests, on the terrace, after dinner on fine Sunday evenings.

So, one gets the impression of a home of culture hospitality and affluence.

In 1888, Bertie and Harry joined forces and set up as a Stock Market Dealing Partnership, under the name "de Rivaz Bros.", dealing chiefly in South African gold shares. Although Bertie was hard-working and conscientious he was let down badly by his brother, who lived the life of a roue. After about two years, the partnership was annulled and their debts paid for by Victor. Victor managed to obtain a post for Bertie with Schweder's, a stockbroking firm for whom Bertie worked until his retirement, whilst Harry emigrated to South Africa, never to be heard of again.

That same year, Victor's youngest son, Frank, left Haileybury and started work in a foreign bank in the City. Although he was a shy young man, life in an office did not suit him, so, in 1890, he decided to join his older brother, Reginald, who was now a cowboy in Colorado.

The United States was growing rapidly. Colorado itself had become a member state in 1876, exactly one hundred years after the Declaration of Independence and is known as the "Centennial State". Its population, in 1860, was only 34,277 but, by 1890, had risen to 413,249. This increase was largely due to the building of railways, which not only opened up new mining areas, between Denver and Ogden in the neighbouring state of Utah, but also a great cattle country - recently, the habitat of the bison - and was inhabited by Red Indians. It was the country of the Arapahoe and Cheyenne Indians and was, in fact, "the wild west".

The eastern half of Colorado consists of rolling plains and farmlands, which rise gradually in elevation towards the foothills and mountains. The western half of the state is mountainous and is criss-crossed with high, rugged mountain ranges, that offer a vast expanse of much of the finest scenery in North America. Interspersed among the mountain ranges are wide fertile valleys, canyons, high plateaux and deep basin areas. The highest point is Mount Elbert, which is 14,431 feet.

Colorado is noted for its excellent climate and exhilarating atmosphere and, all in all, must have been a pleasant land in which to live.

Alas, however, all was not to go well for the two young men. Heavy floods all but ruined them and they decided to move on and try their luck elsewhere. They trekked south to New Mexico and started there afresh but, again, their luck was out, losing their savings by the failure of their Bank. Once more they moved on, this time further west, to Arizona, Apache country - the "Grand Canyon" state. Here, tragedy came when, aged only twenty-seven, Reginald died, in August 1895, leaving Frank, now twenty-four years old, alone.

Meanwhile, in England, the family fortunes continued to prosper and, in 1892, Victor was wintering, as usual, in St. Jean de Luz. Once again, he became ill and a kind friend sent Adeline a telegram, informing her that her husband was ill and "a presence of someone necessary". Unfortunately, this alarming news arrived a day or two before a small dance was to be held, at which their second daughter, Helen (Nellie), was to "come out". Needless to say, the dance was cancelled and Adeline set off at once for St. Jean de Luz, only to be greeted, on arrival, by Victor, who had now recovered with the somewhat unkind remark: "What have you come for?"

Nellie, who throughout her life always kept exact costings (and whose letters were noted for everything being priced, such as: "Had lunch at Lyons Corner House - three shillings and sixpence, including tip"), records that the band and the supper, which was being done by a firm of caterers (Withers, Baker Street) had to be paid for. Happily, Nellie duly "came out" at a dance, at a friend's house, a few weeks later.

However, the next year, the fortunes of Victor took a disastrous turn. He had invested heavily in a South American Bank in Buenos Aires, called Murietta. This Bank was deeply involved in financing the Argentine Northern-Central Railway. Fred Milbank, the senior partner of Laurie Milbank, had told Victor that there was a doubt about Murietta and had advised him to sell out. Victor did not take this. advice, as he thought the investment was quite safe. In the event, Murietta became bankrupt and Victor lost his entire investment.

As a result of this grievous financial loss, he was forced to move to a much more modest house, in Leicester Road, New Barnet, which he named "Soria", after his old friend.

Not long afterwards, Victor suffered a severe stroke and, in August 1895, was further saddened by the news that his son, Reginald, had died in America.

His health improved somewhat and he was able to go for short walks, on the arm of one or other of his daughters. But, one day in November, only three months after his son's death, on a day he had planned to go to London to stay with friends, he suffered another stroke early in the morning and never regained consciousness. He passed away in the early hours of the following morning, at the age of sixtytwo.

Victor's widow, now left with only her daughters at home, Bertie having married, wrote to Frank, beseeching him to return to England. So it was that, in 1898, the shy youngest son returned - bronzed, travelled and with his character and personality stamped by the adventures, experiences and tragedies he had borne.